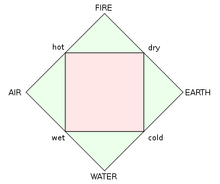 Classical elements refers to a philosophy that was prominent in quite a few cultures. These elements were matter reduced down to its most basic form. At times, these elements are viewed in a spiritual sense rather than physical.
Greek Elements
Edit
In ancient Greece, four material elements plus a fifth non material were said to exist. These elements influenced European ideas and culture throughout the Middle Ages and into the Renaissance. Empedocles is credited for being the first to propose these four elements.
The most energetic and fleeting of the four elements.
An element of fertility, growth, and home.
Alchemical Elements
Edit
The elements present in alchemy take from the classical Greek elements. With the addition of sulfur, mercury, and salt.
Correspondences
Edit
The Elements
Earth
Water
Air
Fire
Colors
Green

Brown

Blue
Yellow
Red
Quality
Primary Dry

Secondary Cold

Primary Cold

Secondary Wet

Primary Wet

Secondary Hot

Primary Hot

Secondary Dry

Direction
North
West
East
South
Elemental
Gnomes
Undines
Sylphs
Salamanders
Magickal Items
Crystals

Powders

Salt

Sand

Holy Water

Cauldron

Shells

Mirrors

Incense

Music

Feathers

Bells

Candles

Wax Burner

Quality
Passive
Passive
Active
Active
Season
Winter
Autumn
Spring
Summer
State of Matter
Solid
Liquid
Gas
Plasma
Tarot Suit
Pentacles

Disks

Cups
Swords
Wands
Time of Day
Midnight
Dusk
Dawn
Noon
Zodiac Signs
Taurus

Virgo

Capricorn

Cancer

Scorpio

Pisces

Gemini

Libra

Aquarius

Aries

Leo

Sagittarius
See Also
Edit
Community content is available under
CC-BY-SA
unless otherwise noted.